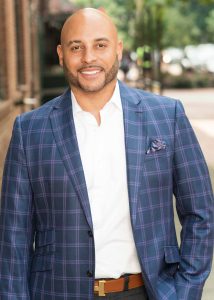 Adam Herndon is an award-winning insurance business owner, motivational speaker, author and known for his high energy and passionate speaking engagements.  He is President of The Adam Herndon Agency Inc. in Laurel, Md, an insurance agency providing insurance and financial services to the residents of Maryland, Virginia and Washington, D.C.  Under his leadership, Adam's agency has been recognized as a Million Dollar Round Table, President's Club, Chairman's Circle, Exotic Travel, Legion of Honor and National Black MBA Legacy Award recipient.  He is a Board of Trustee Member of The Alonzo F. and Norris B. Herndon Foundation and has served as Chairman of the Board at University Community Academy, an elementary charter school in Atlanta, Ga.
Mr. Herndon grew up in Oakland, Ca. and was fortunate to have very influential people with him along life's journey.  He witnessed success in areas such as insurance, real estate, and philanthropy.  He learned that through hard work, perseverance, and compassion, people are more likely to stand in your favor and support your efforts.  Mr. Herndon attended The Ohio State University where he studied communications and business administration.  He was a member of Phi Eta Sigma-Alpha Lambda Delta's National Honor Society as well as an All-American track and field athlete and team captain.
The positive experiences in his life shaped motivated him to pursue a rewarding career in insurance and to write a children's book empowering the younger generation to chase their dreams and overcome any personal challenges that may appear insurmountable.
Contact Adam for more information.