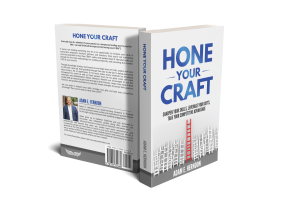 Every job you do—whether it's your passion or a temporary landing spot to pay the bills—can and SHOULD be improved by honing your CRAFT.
If you're not treating everything you do as an opportunity to increase your value to consumers, employers, business partners, and investors, then you're not maximizing your true potential. In Hone Your CRAFT, author and speaker Adam E. Herndon walks you through his five-step methodology for avoiding mediocrity and becoming the dynamic CEO of your own life.
Through knowledge sharing, short exercises and large doses of truth, readers will learn to shift their mind-set from grinding through their day-to-day job to being passionate about living a life of significance. In his book, Adam shares methods he developed throughout his career as well as those passed down by his great uncle, self-made millionaire and philanthropist, Alonzo Herndon. Readers are encouraged to use this pivotal shift as a means to gain more leverage in their industry, create more value in their business, and position themselves to use their innate strengths to pursue their passions.
Are you ready to sharpen your skills, leverage your gifts and take your competitive advantage? Then you're ready to Hone Your CRAFT!
____________________________________________________________________________
I was very excited to write this book and reach out to a diverse group of readers by sharing the amazing story of Alonzo Herndon. Both children and adults bond together when spending quality time reading books. My hope is that Uncle Alonzo's story will inspire the lives of all readers and the story will be told for years to come.
Written by Adam Herndon and based on the life of his Great, Great Uncle, 'The Story of Alonzo Herndon' is a tale of overcoming life's odds and achieving overwhelming success. Imparting valuable life lessons including the importance of hard work, racial equality and honest character, the book is expected to resonate with young readers around the world.
For Immediate Release
Atlanta, Georgia – Alonzo wasn't your average slave. After being born into a farming community in 1858, he rose to become a prominent barber, entrepreneur and eventually the Founder and President of the Atlanta Life Insurance Company – one of the most successful black-owned businesses in the nation. To share his Great, Great Uncle's story with the younger generation and empower them to overcome their own personal odds, Adam is delighted to announce the launch of his powerful new children's book.
Synopsis of 'The Story of Alonzo Herndon: Who Says A Slave Can't Be a Millionaire?':
How on earth can a slave become a millionaire? The Story of Alonzo Herndon is a true, inspiring story about a boy who was born into slavery and worked very hard to become very successful. He even became a millionaire! Alonzo's story of determination and hard work will inspire both children and adults.
Alonzo Herndon's success is greatly admired, but many overlook how he overcame such harsh conditions to achieve his success. He was an entrepreneur even in his early years when he sold peanuts. He later attained wealth from barbering, real estate and insurance. Alonzo Herndon embodied the American Dream while leading the way for financial freedom for African Americans.
With lively illustrations, The Story of Alonzo Herndon introduces Alonzo Herndon to young readers and inspires them to achieve greatness
As the author explains, his relative is an inspiration to the entire nation.
"Uncle Alonzo overcame harsh conditions and attained wealth through barbering, real estate and insurance. He was the ultimate American Dream!" says Herndon.
Continuing, "I want this story to serve as an example for all young people growing up today. Even the privileged face a unique set of struggles and this real-life story proves that nothing is impossible."
Critics praise the author for his diligent attempts to help change the lives of others.
"Through my own hard work, I am confident that I can make this book a huge success – just like Uncle Alonzo – who was so dedicated to his craft that he achieved top-level success. At the time, this level of notoriety among an African American family was virtually unheard of," Herndon adds.
With the book's popularity expected to increase, interested readers are urged to purchase their copies as soon as possible.